We are currently operating at a limited capacity of 10 people per class. The schedule will be posted on Wednesday evenings for the upcoming week. Classes are filling up fast so be sure to sign up in advance. Please scroll down for info on what we are doing to keep our studio safe & clean.
MOD has always been and will continue to be a safe & clean environment. As we continue to operate under CDC and Texas guidelines, we ask that you do the same. We will still be offering our virtual classes as well. Please feel free to email with any questions, comments, or concerns.
WHAT WE ARE DOING TO KEEP OUR STUDIO CLEAN AND SAFE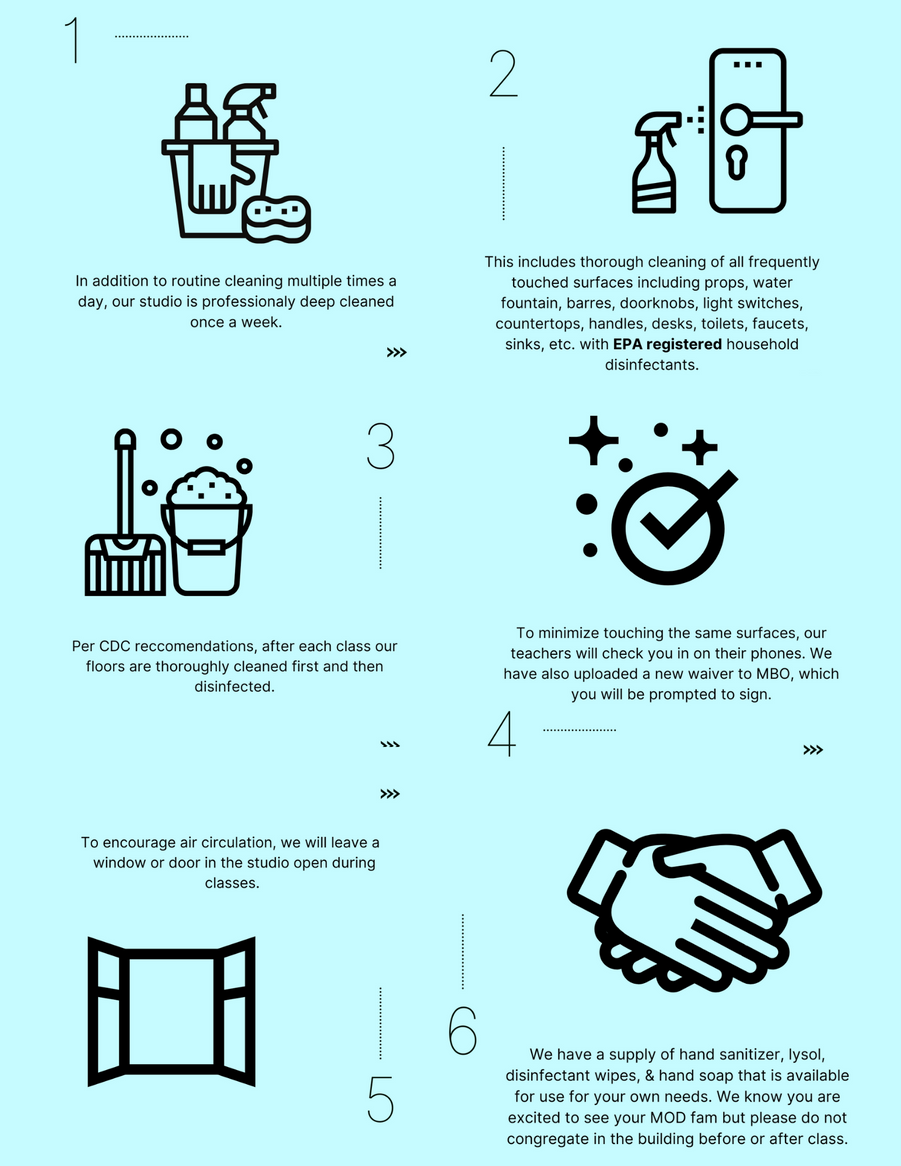 When Entering the Studio:
1. Show up no earlier than 10 minutes before class. This is to give clients from previous class time to leave, and to minimize crowding in the common areas.
2. Come fully dressed for class and use the bathroom at home prior to entering the studio.
3. Upon arriving at the studio you will be required to wash and/or sanitize your hands. We will ensure we have plenty of hand sanitizer available and/or hand soap in our restrooms.
4. Do not come to the studio if you have visible signs of illness such as runny nose, persistent sneezing, fever and cough.
Setting Up for Class
1. Please do not crowd in common areas.
2. We will provide wipes and/or sanitizing spray for you to wipe down your equipment prior to class starting.
3. Set up equipment with 6 feet in between clients
4. While we are not requiring clients to wear masks, you can wear a mask and/or gloves if you would like.
During Class & After Class
1. You will not be receiving any hands-on form corrections during class but instead will see demonstrations and hear clear verbal cues to help you understand and execute the moves with safe and effective form.
2. At the end of class you're required to wipe down props and spray with sanitizing spray at the cleaning station in the the studio. In addition, thoroughly wipe down your mat area and barre area. Our staff will sanitize and clean the mats and barres after each class.
3. Wash your hands after class or use sanitizing spray before leaving the studio
4. Please do not crowd in the common areas. Please mingle outside in the fresh air.
*Cleaning protocol subject to change as we learn new guidelines from the CDC and State of Texas.