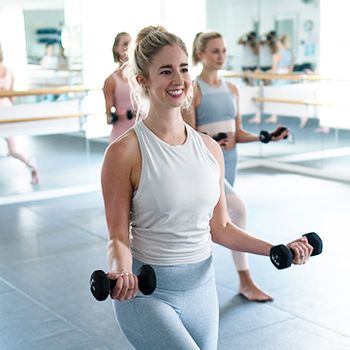 ARRIVE 15 minutes early.
SIGN IN, fill out waiver, and our front desk staff and instructors will show you around.
EQUIPMENT and mats are provided for all classes.
WEAR COMFORTABLE workout clothing and bring a water bottle. Water can be purchased at the studio for $2.
SOCKS ARE REQUIRED for all classes. Grip socks can be purchased at the studio.
ARRIVE ON TIME. Clients are not permitted to enter class more than 5 minutes after class starts for your safety.
FAQ's
+ THIS IS MY FIRST TIME TO MOD. DO YOU HAVE ANY SPECIALS?
We offer new clients a $89 month of unlimited classes.
+ DO YOU HAVE STUDENT DISCOUNTS?
+ HOW DO I PURCHASE A GIFT CARD AND REDEEM?
Purchase: You can purchase gift cards online through Mindbody and have them delivered directly to your friends and family via email. Giftcards can also be purchased in studio. Email mod@modfitness.com to coordinate pick-up.
Redeem: Create an account on Mindbody. At checkout, enter the giftcard ID and the dollar amount will be deducted from your shopping cart. Email mod@modfitness.com with questions.
+ WHAT IF THE CLASS I WANT TO SIGN UP FOR IS WAITLISTED?
If class is full, join the waitlist. As clients cancel you will automatically be added to the class and notified by email. Reply to the email and confirm your space in class. If you cannot make it to class, login to Mindbody and cancel. Make sure you are subscribed to email notifications and check back often check your spot on the waitlist.
+ WHAT IS YOUR LATE CANCEL AND NO-SHOW POLICY?
We require clients to cancel at least 2 hours prior to class without penalty. Cancellations must be made online through MindBody. Late cancels will be charged $10 for unlimited membership options, $15 for no-shows, OR deducted 1 class from class packages. The fee will be automatically charged to your credit card on file. If you do not have a credit card on file, your Mindbody account will be debited the late cancel or no-show fee and you will be asked to reconcile on your next login to Mindbody or in-studio visit.
+ DO YOU HAVE LOCKER ROOMS AND SHOWERS?
We have bathrooms and changing areas to change. Beauty products are provided to freshen-up after class.
+ WHERE DO I PARK?
BURNET: Parking is limited in the back lot. Free street parking is available around Ramsey park. Park on Burnet Road and Rosedale Avenue and walk one block to the studio. Entrance is in back of the studio.
+ WHAT SHOULD I WEAR?
Wear workout clothing, grip socks and bring water. Water and grip socks can be purchased at the studio.
+ HOW OFTEN TO I NEED TO TAKE CLASS TO SEE RESULTS?
Depending on your fitness goals, we recommend attending class at least 3 times per week and incorporating a combination of both our strength and cardio classes.
+ HOW DO I KNOW WHAT LEVEL CLASS TO TAKE?
While classes are available to all clients, we recommend starting with MOD Barre.
+ WHO CAN TAKE MOD FITNESS CLASSES?
Clients must be at least 18 years of age. Our workouts can be tailered to all ages and fitness abilities.
+ WHAT IF I HAVE INJURIES?
Consult with your doctor before taking any class with an injury. MOD Fitness classes can be modified for injured students. Please speak with your instructor about your injury before class begins and note any health concerns on your waiver.
+ CAN I ATTEND CLASS DURING PREGNANCY?
Clients may take any of the MOD classes and modify. A written consent from your doctor is required before taking class. We suggest that you arrive 15 minutes early to discuss your pregnancy with the instructor, who will help design appropriate modifications. Please ask for our pregnancy modifications sheet in studio.